White Paper: How Centralizing Retail Fuel Pricing Can Impact Company Profits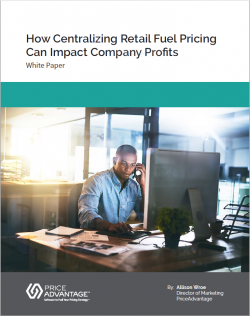 Decentralized fuel pricing can cost companies substantial revenue through lost margins, volumes, and wasted staff-hours. By centralizing the fuel pricing process, fuel marketers can remove the manual processes that create delays and errors as well as gain better insight into the data and analytics that optimize fuel prices.
Making the shift from decentralized to centralized fuel pricing involves adopting new strategies, procedures, and technologies. Allison Wroe, Director of Marketing for PriceAdvantage, conducted a series of interviews with both SMB and Enterprise fuel retailers as well as researched investor reports and published articles as the basis for this white paper. The findings highlight the retailers' experiences and can be used help create a roadmap for other companies who are interested in centralizing their fuel marketing programs.